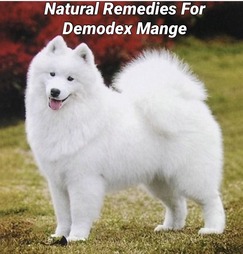 Demodectic Mange, also known as "demodex" is a parasitic skin disease caused by microscopic mites. All dogs have a few of these mites on their skin. However, when dogs have a compromised or immature immune system, the mites can take over and increase more rapidly. Demodectic mange is most commonly found in young pups under two years of age, but adult dogs (especially those that have been through physical or emotional stress) can develop it too.
Demodectic mange can be itchy but characteristically causes patches of hair loss first starting on the head and then in more aggressive cases, throughout the body. Treatment for mange can involve topical medication, shampoos, dips, oral medication and antibiotics in the case of secondary infections. While the mange may clear up and respond to the treatment, pet owners should be proactive about taking steps to support their pet's immune system as the pet may continue to have flareups or other immune-related health conditions long-term.

Holistic care is a crucial part of treating Demodectic mange for the long term health of your pet. Feeding a hypoallegenic, anti-inflammatory diet along with a few supplements can help the pet get back on track and reduce the likelihood of a flare up.
Supplements helpful for Demodectic Mange include:
Feeding a

raw food diet

can also be beneficial as the fresh nutrients provide enzymes, antioxidants and highly digestible food that support a healthy immune system.