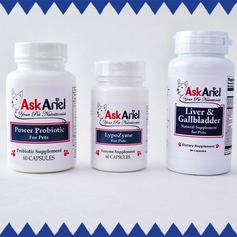 VETERINARY-APPROVED CLINICALLY PROVEN TO WORK
Dogs and cats feel better quickly using these three clinically-proven herbal and enzyme formulas. These all-natural supplements are gentle but effective in supporting the liver, gallbladder, pancreas and intestinal tract. The enzymes and probiotics are at a therapeutic level making them highly effective in breaking down food, easing the burden on the pancreas and digestive tract. The Pancreatitis Kit is excellent for dogs and cats with the following conditions:

*Pancreatitis
*Canine Cushings Disease
*Difficulty digesting fats (indigestion)
*Breeds prone to pancreatitis such as Schnauzers, Poodles and Cocker Spaniels
*Gallbladder problems
*Elevated Liver Enzymes
*Diabetes
*Senior cats and dogs
The formulas are all capsules that can be opened and the powders inside can be sprinkled on food.
Please include your pet's diet and diagnoses on the order form at checkout. We will include a diet suggestion on the packing slip that comes with your order.