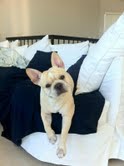 "Dear Susan:
Our sweet French Bulldog Maestro was scratching his face and tearing his fur out. He is very sensitive and we didn't want to keep giving him prescription medications. Benadryl would just knock him out and we wanted our doggie to feel better. We tried several diet changes and a few itch-relief supplements from other brands but nothing worked. Then, we found AskAriel. I am happy to report that after using the

Pet Allergy & Skin Supplement Package

, Maestro started to get better right away. He loves the Amazing Omegas on his food! A patch of fur that he kept chewing on is finally growing back. Thanks for the diet tips too. We are very happy we found Ask Ariel."