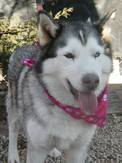 Denali is a 9 year old Siberian Husky who was rescued from an LA County Shelter 3 years ago by Husky Haven of LA. She was adopted to a seemingly nice family who promised to care for Denali for the rest of her life. Even though the family was carefully screened, they did not live up to their promise and Denali turned up at a shelter looking as she appears on the right with clumps of fur missing, loss of her black pigment from severe malnutrition, sores around her mouth and a large growth on her ear. The picture on the left is how Denali appeared just 3 years ago at the time of her adoption.
Husky Haven of LA
makes a commitment to the dogs they rescue for life. It cost $250 in fees to bail out poor Denali from the shelter and it is estimated that she will need approx. $2000 in veterinary care. However, we are hopeful that with proper veterinary attention, supplements and good nutrition, Denali will be able to make a successful recovery. Even the smallest donations would be appreciated. If you would like to help save Denali's life, please make a tax-deductible donation on the
Husky Haven of LA website.
AskAriel.com
is dedicated to helping save the lives of homeless pets. We donate resources and supplements to rescue groups to help give these pets a 2nd chance.