Many of you might recall the adorably photogenic kitty Pumpkin who suffers from stomatitis, an autoimmune condition. Pumpkin has been using Ask Ariel products for 2 years. His mom, Cassandra, takes amazing care of him and recently sent us this update. Cat stomatitis holistic treatments really works!
"Thank you so much for everything. The love of my life, Pumpkin, would NOT be here today if it wasn't for you (and he is literally everything to me). He is now 9 1/2 years old, and still going strong. He STILL has not had to go to the vet once (aside from routine dental etc) and has had NO flare ups." Pumpkin uses the Immune Support Kit, Immune Harmony and Power Probiotic
.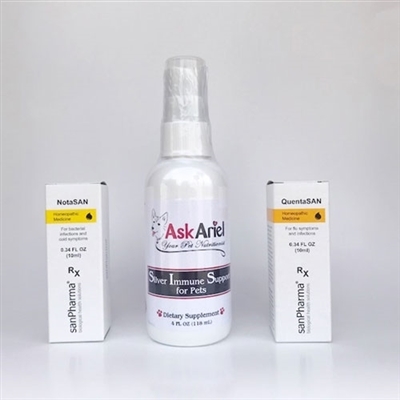 Contains three tasteless, natural remedies. NotaSAN, QuentaSAN and Silver Immune. These three remedies deliver fast relief for your pet's autoimmune symptoms and chronic viral infections and are easy to administer. They help modulate and support your pet's natural immune response rather than overstimulating it the way many supplements can. These three liquid drops can be mixed into a little bit of soupy food making it easier to administer.