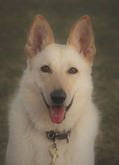 Blanca
Congratulations to the first winner of the AskAriel coupon giveaway! It's easy to enter and there is still plenty of time.
Here is a link with all the info.
Here is cuddly Blanca, a 5 year old White German Shepherd rescue dog. Her Mom Mindy will receive a FREE shipping coupon for
AskAriel.com
and a $6 off Coupon for Instinct Raw Frozen Diets. We will be drawing a winner tomorrow and every night through Mother's Day!
Need help figuring out what to feed your pet? Please see our articles about
pet nutrition.