Power Probiotic Keeps Pets Healthy!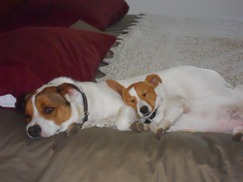 We are sincerely grateful to the Fountain family for providing us with this special message about how our Power Probiotic has enriched their pets' lives.

Scott and Joanne Fountain are dedicated dog owners who have saved the lives of countless rescue dogs, personally and through their volunteer rescue work.

They have 4 adorable rescue dogs in their household now and believe that the Power Probiotic "has increased their pets lifespan and kept them healthy."
"Our home is blessed with the love of many rescued dogs... Joanne working with CA Labs and More Rescue
(www.Labsandmore.org) has helped many dogs and families enjoy the same. Here's an update on our "Family" as it is today;
Our "Shorty" came to us after being rescued with his two brothers, at the age of about 10 weeks, saved by Labs and More Rescue from a box dropped roadside in the SoCal desert. He is a Jack Russell/Beagle mix and he has the kindest soul of any dog we have ever saved. Shorty has taken Susan/Ask Ariel supplements and Power Probiotic his entire life and has been active, energetic, happy, and healthy for all of his five years. We expect that with lifelong continuation of his diet and supplements he will live to be a ripe old age... chasing and chewing every ball within sight!
Our "Stella" is a special child... she is a Jack Russell that we rescued into the family when she was just 12 weeks old. She came from a mid-west puppy mill so ran the risk of poor health from the outset. She had digestive and intestinal tract problems that in her first year almost took her from us twice. We altered her diet several times with the assistance of the Vets at U.C. Davis until we found the best (re: healthiest) diet she could keep down and thrive on... of course this diet has included Power Probiotic and other supplements so she can have and enjoy the same long and healthy life our other dogs do. She has become a bundle of pure energy and joy.

Rosie
Our "Rosie" ( 13 1/2 year old Black Lab/Coon Hound mix) came to us at 1 year old. She has lived a full and healthy life with good food and supplements from AskAriel. She has taken probiotics her entire life and save for the few fatty tissue tumors she now sports at old age (non-malignant, non-life threatening, non health impediment) she is a happy, healthy 'Ol Gal. Rosie has always had a healthy appetite, good food, probiotics and the occasional grass snack have kept her healthy into old age.
Our "Buddy" (Yellow Lab/Husky mix) is now 12.5 years old. He came to us after 8 years of captivity with a family that did not treat him well (he was left outside all day/night, he was not fed regularly, he had been attacked by Coyotes and bitten by a rattlesnake). He was 30# overweight from irregular eating binges. We brought him into our family and with a regular healthy diet and addition of Susan/Ask Ariel supplements and Power Probiotic, he is healthy and happy. He is a friend to all and resting his old bones in front of a fireplace is his special joy. He has some tender areas on his legs, residual from the coyote attacks, but is otherwise a very healthy and happy boy. When we take him on walks, everyone that sees him thinks he is a "puppy" because of the bounce in his step and smile on his angelic face.
Scott and Joanne Fountain, CA, 2015