Rescue Dog Needs Your Help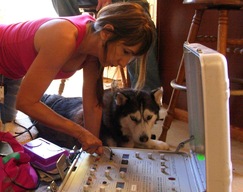 This is Kiara, a senior dog that never managed to get a stable home---in/out of shelters her whole life. Rhonda Hallden of Husky Haven of LA
www.huskyhavenofla.org
rescued her from euthanasia at a high kill shelter in the hopes of finding someone who might adopt this senior girl. Well....Kiara finally had her chance but the woman decided within a few hours that it wasn't a "good fit" AFTER she managed to accidentally step on Kiara's tail causing the poor dog to fall down a flight of stairs. She immediately returned an injured Kiara the following day. Rhonda fortunately found a sweet elderly couple Janet and Mac, (who have a tripod special needs dog Maddie adopted from Rhonda) who offered to nurse Kiara back to health temporarily. Ask Ariel provided supplements and we got acuscope treatments (a wonderful physical therapy---please see picture of Kiara with Gina Goulde giving her acuscope therapy) which helped her immensely.
Then, Janet fell and broke her hip......but in spite of it all, the elderly couple were determined to continue to foster Kiara because she and Maddie (their tripod dog) were becoming good companions. By the time Janet was able to get home and walk again, Kiara's health declined considerably. Kiara was no longer able to walk and could not get up on her own (had to use a towel to help her stand). Mac uses a walker and is unable to walk either of the dogs although both Janet and Mac sure do shower them with love and attention.
It has taken a "village" (volunteers, donations, time and energy) to get Kiara up and walking, but thanks to diet, acuscope therapy and a few supplements such as
Special SAMe,
Kiara has made a big comeback. She is going on slow walks and gaining mobility. But donations are desperately needed to continue her special care.
Please donate
This is a very tough situation and Husky Haven really needs donations. A donation in any amount will help! Husky Haven of LA is a 501 (c)(3) public charity and donations can be made directly on the website
www.huskyhavenofla.org
or mailed to: AskAriel P.O. Box 723 Dana Point, CA 92629 (and we will forward to Husky Haven). Husky Haven of LA's founder is Rhonda Hallden who has dedicated her life to serving animals and the community.
Join Our Pet Forum on Facebook