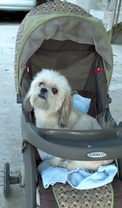 "I
wanted to let you know that our 12 year old Lhasa Apso Cinnamon is doing very, very well on the
IBD Kit,
in fact, far better than she did on steroids. I only wish the vet that put her on steroids would have told me there was a chance they would destroy her heart. I would have sought an alternative treatment for her much sooner than I did. Anyway, her poop is a much better consistency, and her appetite is greatly improved since she's been on the IBD kit and I thank you immensely for your help and your products.
Additionally, I'd like to praise the heart supplements (
Vitality Now and
Purrfect Pet CoQ10
.
In this picture, you'll notice she Cinnamon is in a baby stroller. She's been diagnosed with congestive heart failure (grade 4 heart murmur) and her vet advised that exercise would be good for her but, I need to watch for signs of exhaustion i.e. head down, tail down, gait slowing. Daily, we go on a walking trail with Cinnamon walking and me pushing the stroller in case she tires and needs to ride for awhile.
Most days she is able to walk at least 1 mile, often 2 miles, without the need for the stroller. She walks off leash, so is able to walk at her own pace, but still, I feel the heart products have enabled her to live a more comfortable and enjoyable life. Prior to starting her on the heart supplements,
I was told by her vet that the heart failure was advancing rapidly, going from a grade 1 to 4 in just a couple of months. She is now stable and the heart failure has not advanced for over a month. She also seems to have more energy than she's had for quite some time because, she has once again gained a desire to chase rabbits and squirrels. Thanks so very much for your products."
Timmons Family, Kansas December 2013