If your dog is scratching and itching, these veterinary-approved supplements are backed by research and have been used successfully to treat itchy dogs.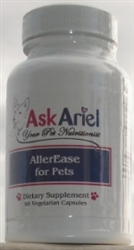 Bioflavanoids such as quercetin can act as a natural anti-histamine to stop dogs from scratching and itching
. AllerEaze contains two key ingredients known to help relieve allergy symptoms: Quercetin and Nettles.

Quercetin is recommended by veterinarians to help dogs and cats with seasonal environmental allergies. Symptoms of seasonal allergies can include: nasal discharge, itching, scratching, sinus infections, runny eyes, red mouth, red paws, inflamed chin and ear scratching. Because quercetin can suppress the allergic response and release of histamine, it is highly recommended for dogs with mast cell tumors. If your dog has "doggie odor", then use this WITH the K9 Yeast Defense package.
Many dogs can develop a yeast overgrowth resulting in chronic ear infections, licking at the paws and genitals. If your dog has been on antibiotics or eaten a diet high in carbohydrates and displays these symptoms, chances
are, yeast could be a contributing factor. K9 Yeast Defense controls yeast overgrowth and provides fast relief. Use along with Power Probiotic and Notatum for best results.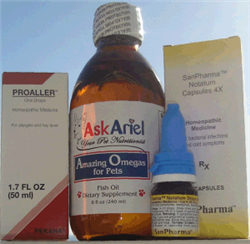 The Pet Allergy and Skin Package contains 3 supplements that work synergistically together to stop scratching, improve coat quality and reduce redness and infection. If your pet has skin problems, dry coat, nonstop itching, then give this combination a try. The Pet Allergy and Skin Package includes
Amazing Omegas a highly concentrated fish Oil from sardines and anchovies. Amazing Omegas can quickly enhance your pet's coat, eliminate dandruff and reduce your pet's inflammatory threshold overall.

Omega 3s found in Amazing Omegas fish oil are best but flaxseed oil, cod liver oil and coconut oil can be rotated into the diet as well.